JUNE IS BLACK MUSIC MONTH!!!!
June is the celebration of "Black Music Month"! Music has been the soundtrack to my life. It's almost like air to breathe. As an Aquarius, I'm naturally drawn to it like a moth to a flame. In the same fashion, I was born in the last '70s, grew up during the '80s and '90s, therefore, I was exposed to the best music ever. The first song that I can remember me singing was The Commodores' "Brick House"! In addition, my parents both played some of the greatest artists of all time. For instance: Stevie Wonder, Chaka Khan, Ohio Players, Lakeside, Con Funk Shun, Earth Wind & Fire, The Emotions, The O'Jays, Rick James, Teena Marie, Stacey Lattisaw, Parliament-Funkadelic, Patti LaBelle, Blondie, Kool And The Gang, Michael Jackson, Prince, Midnight Star Atlantic Star, The Time, etc..
My first love in music was none other than the "Greatest Entertainer Of All Time" Michael Jackson. I was about 6 years old when I witnessed his performance on Motown 25. Michael was the most beautiful man I had ever seen in my short life. (Laugh). In other words, I was captivated by his magic as he performed the "Moonwalk". Not to mention, my bedroom walls were full of his posters, the doll, books, notebooks, pencils, tees, stickers just everything. Consequently, he broke my heart when the "Thriller" video aired. It started off ok I was smiling then we all know what came next. As the video progressed I was completely devastated. I wanted everything that had anything to do with him thrown away. I cried cause I really thought he was a monster. Then to make matters worse my mother has the nerve to purchase that damn "Thriller" View-Master. (Laughing)
The year was 1983 after Michael took away my young soul a cousin of mine changed the dynamic of my trauma. He played this record for me the music began to play then I heard this voice and instantly I was in love. The group was New Edition. Not only was I smitten, but also wanted to know more about them. I figured as long as the fellas didn't turn into any monsters I was cool. New Edition came to Pittsburgh in 1985, I was 9 years old & UTFO was the opening act. They all wore silver suits I was happy screaming my head off. Thirty plus years later they still make my heart skip a beat even in their 50's.
Janet Jackson is by far my most favorite female entertainer ever. Once I found out her relation to Michael it was nothing for me to become a life-long fan. Janet taught us how to take control of our lives, respect ourselves, how not to rush into having sex. Ms. Jackson also was an advocate for race relations education among other social issues. Moreover, she taught us how to be sexy and take charge in the bedroom. Janet Jackson is the blueprint for the generations that came after her. At the tender of 53, she is still mesmerizing her fans.
Throughout my teenage/ young adult years, I've had my share of illicit love affairs. For example 2 guys, in particular, I had the on/off again relationships with. One of them I can name quite a few songs that will explain how I felt about the situation. Singer Lisa Fischer's "How Can I Ease The Pain". Alicia Keys "Fallen", "A Woman's Worth" & "Good Bye". Rihanna's "Rehab" also Melanie Fiona "It Kills Me" was later added to the list. Another troll I entertained after consistent (Ghosting) I learned he got married. The song that said it all for me at that time was Brownstone's "Grapevine"!!!! I wore that song out. Because I was so outdone by how everything transpired. Another gentleman that I had no business dealing with which was ultimately the worse mistake of my life. Here is the list of songs that describes that era: Ne-Yo's "So Sick", Ciara's "And I", Rihanna "Take A Bow", Macy Gray "Finally Made Me Happy", Jazmine Sullivan " Bust Your Windows" !!
Fast forward to the present day, my Spotify playlist is packed with songs from every season of my life. I have various types of genres of music. R&B, Hip-Hip, Reggae, Soca, Afro-fusion, Neo-Soul. Featured below the artists that are heavy rotation currently.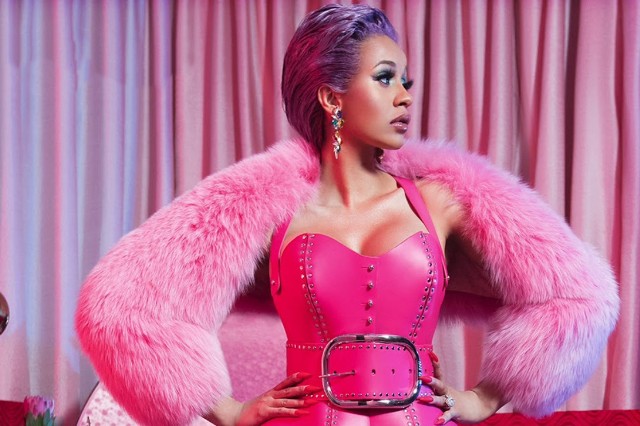 Cardi B. I absolutely love this young lady. Despite what everyone has to say about her I can appreciate her drive & determination. Before her release of "Invasion Of Privacy" was released she had already made a name for herself through her mixtapes. She spent one season on "Love & Hip-Hop" New York haven't looked back since. In the midst, of her pregnancy with daughter Kulture, she broke all barriers, took over the music charts, captivated new fans such as Barack Obama, Denzel Washington & Senator Kamala Harris. Cardi is riding high but she remains humble not to mention give all thanks to the man above for all her accomplishments. A true "Boss Chick" she has endorsement deals with Reebok, Fashion Nova, Pepsi to name a few. She has been featured on countless magazine covers even though people said she would never work with the fashion industry's top designers again. Now those people are eating their words. People have been coming for her so much so that she may check you or take it in stride. I'm so looking forward to her performance at the 2019 BET Awards in a few weeks. Let this be a lesson for all those with "public opinions from private accounts" (verse from Clout) this young lady has more in store just wait on it….
Ciara, I love the resilience of this artist. She has been knocked down so many times in the music industry. Record labels didn't stand behind her work or promote any here projects and so forth. Ciara has been mocked, ridiculed, laughed at but she stood the test of time. "Beauty Marks" is an amazing body of work. "Level Up" has been in heavy rotation for the past few months. The relationship that she has with her husband Russell Wilson is nothing more than a fairytale which is reflected in her latest project. I've been a longtime fan since day one. She is still winning, Ciara now has her own label.
H.E.R. MUSIC is like a breath of fresh air. All her EPs you can just let play with no skips. The music is simply amazing and will put your mind at ease. H.E.R is super talents to plays a wide range of instruments including Guitar, Bass & Drums. She reminds us that anything is possible she won a Grammy without releasing an album. Today she announced her very own festival "Lights On Festival" through a partnership with Live Nation Urban. The festival takes place at Concord Pavilion in Concord, CA September 14th.
Janelle Monae's Dirty Computer is still in heavy rotation. I've liked her when she first burst on the scene with Big Boi's "Purple Ribbon" Crew. I loved her approach to the industry by having her own signature look in the Black & White" rocking a pompadour. Janelle tackles more social issues as she always has on previous projects. The first single off Dirty Computer "Make Me Feel" got my attention instantly. It reminds me of Prince's "Kiss"!! My other favorite tracks are "Django Jane", "I Like That" & "I Got The Juice" featuring the producing genius Pharrell Williams. Janelle is currently on tour overseas.
Joi, I just love this woman. Joi is just a BADASS UNAPOLOGETICALLY!!. Her latest project SIR Rebekkah Holylove reminds you of a pot of Gumbo that has been cooking for hours to perfection. When I tell you she took her time with this project because every last track is a BANGER!!! I can't really pick a favorite song off the album because every one of the singles is FIRE. But if I had to choose it would be "Ruler". The song opens up like this: "B*tch I'm free since before was before I been knew the score…yeah wild and wonderful in my own skin comfortable you got no dominion over me…..". With lyrics like that makes you yearn for more. I did a few InstaStory videos lip-syncing a couple of her songs she also shared in her stories. I'm proud to say that my favorite Rockstar is following me on Instagram. Talk about winning!!!!!
Spice, new Queen of the Dancehall is a force to be reckoned with. She has brought me back to authentic Dancehall Music. With her signature dance moves Spice lights the stages and tracks on fire. A few months ago Spice, became compassionate about the epidemic of black women lightening their skin. She took to Instagram to bring awareness to this issue by wearing lighter make-up all over her body with blue contacts. The song "Black Hypocrisy" opens about her battles of wanting to lighten her skin to be more successful in the industry. My favorite tracks on her latest mixtape Captured are: "Gum, Under Fire, Cool It, Genie, Romantic Mood & Beauty and the Brain".
Other artists that are in my playlist is Meek Mill, Nipsey Hussle, Solange, Amerie, Ella Mai, Nigerian Artist Yemi Alade, Soca Queen Allison Hinds & Soca King Machel Montano.
My team SwagHer Magazine is celebrating "Black Music Month" by hosting (Live) Chat via Instagram @swaghermagazine throughout the month of June. Each Brand Ambassador and/or Contributor will share what artists they're currently listening and what music means to them.