"MAN AT HIS BEST" CHADWICK BOSEMAN GRACES COVER OF ESQUIRE MAGAZINE SUMMER 2018 ISSUE
PHOTO CREDIT: MELODIE McDANIEL
Suit, shirt, and tie by Emporio Armani; shoes by Pierre Hardy.
Jacket and shirt, Saint Laurent by Anthony Vaccarello.
BRIEF EXCERPT FROM COVER STORY BY ELVIS MITCHELL:
Before Black Panther's release, Boseman had expected some bridges to be constructed by virtue of the film's likely success–just not enough to reach, figuratively speaking, from Hollywood to almost every corner of the globe. "As we premiered the movie in Korea, in London, after the L. A. premiere, we started to see how the world was going to receive it," he says. "We knew that a lot of black people were excited about the movie. But I think when we started to see the response overseas, that's when I started to go, 'Oh, wow, this is a big deal.'" It opened at number one in India, Brazil, the UK, Australia, and South Korea, and it passed the $100 million mark in China (despite some lukewarm local reviews).
"I loved Black Panther. It's the kind of movie the whole world was waiting to see," says Quentin Tarantino, who knows a thing or two about international cinema and global box office.
Jacket by AMI Alexandre Mattiussi; shirt by Prada trousers by Etro.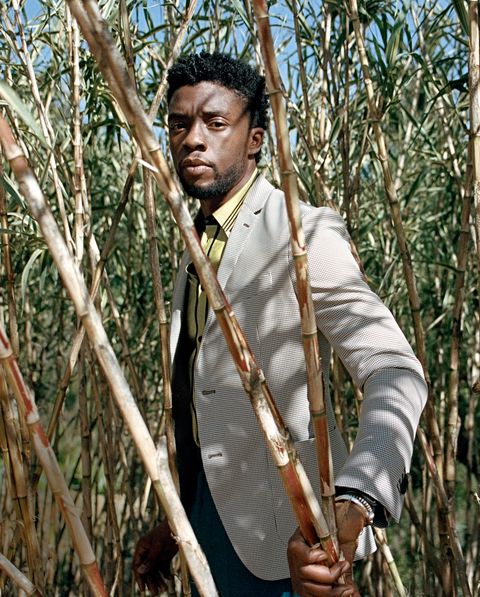 Jacket by Fendi; shirt by Bottega Veneta; trousers by Missoni; beaded bracelet by John Hardy; UNOde50 bracelet, Boseman's own.